The employment bureau began to give attention in the year of 1991, in that time was knew as support to the graduated. 
In 1996 is designate as Employment Bureau and Professional Practices, Since that it has amplified and improved it linkage with the private and public companies, providing and excellent service to the next careers: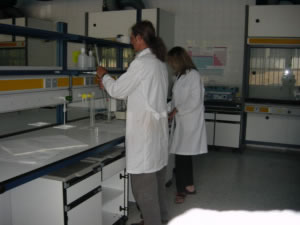 Biologist
Chemist Bacteriologist Parasitologist  (C.B.P.)          
Bachelor of Food Science                      (B.F.S.)                       
Bachelor of Genomic Biotechnology     (B.G.B.)
PROGRAM'S OBJETIVE.
Employment Bureau is a department whose main objective is that of link student community and graduates of the School of Biological Sciences of the U.A.N.L. with the productive sector, getting opportunities of job according with the profile of our graduates. In like manner, detect opportunities for the students of the last semesters and recent graduates, for their incorporation to the productive sector, through the performance of the Professional Practices, with the possibility of be hired after the compliment of the practice's period, or in default to get labor experience.
 
MISSION.
 
Our mission is serve and attend our students and graduates, exceeding their expectatives, always with a basis of respect, absolute and integrate responsibility, and always looking for the innovation and continue improvement in our processes in benefaction of our institution.
 
VISION.
Improve the processes of recruitment and selection of Humans Resources segmented according to it professional development of for the areas of their interest to our students and graduates with the local, national and international companies.
VALUES.
Honesty
Respect
Punctuality
Responsibility
Positive Attitude
The department Employment Bureau does the next functions:
Offer information and consultant to the students that solicit the information in a job's offer and/or a professional practice.
Link with public and private with institutions in order to inform them of the variety of graduates, the profiles and the labor benefits.
Offer services that help graduates in their introduction in the labor field.
Investigate frequently the labor ambient.
Offer enablement to orientate and advise to the candidates for the planning of their job search. For example the performance of a Curriculum Vitae, the presentation and the motivation in a Labor Interview.
Offer advise to the students of advanced semesters to do their Professional Practices in the same way to effectuate the procedure of agreement with the Direction of Linkage and Social Service of the U.A.N.L., in like manner also the insurance of accidents against risks of job from it begin to it culmination.
To receive the request of the enterprises by telephone or via e-mail about the requirement of our students and graduates.